I'm a financial analyst, not a philosopher, and yet in my writings about money I often touch on the subject of time. Generally, this is because the two are somewhat interchangeable with one another — some people sacrifice their free time to plunge headlong into their careers, while others sacrifice income to have more leisure time.
Time and economics are related in other ways, as I was reminded when I perused the results from the latest American Time Use Survey, released a few weeks ago by the Bureau of Labor Statistics. How Americans spend their time is in many ways driven by economics — consumption habits, career stage, qualifications, and social status. Here are some observations about some of the study's findings:
Most like TV better than their friends. On any given day, 79.4 percent of Americans watch television, for an average of 3.49 hours. In contrast, only 36.8 percent socialize or communicate on any given day, and even then only for an average of 1.95 hours.
It's no wonder we are out of shape. 73.8 minutes out of the typical American's day is spent eating and drinking; just 18 minutes is spent exercising.
People shouldn't be so tired. Despite being out of shape, the average person should not claim to be exhausted. We hear about the rigors of modern life, but it turns out that Americans sleep more than they work. The average person sleeps 8.75 hours a day, while the typical worker puts in an average of 7.55 hours — and that's just the 43.2 percent of Americans who work on any given day.
Some people must be fibbing about their phone use. According to the survey, just one person in five spends time on the phone or engaged in correspondence by e-mail or regular mail on any given day. Supposedly that one person in five spends an average of just 43.2 minutes on these activities. Presumably then, the legions of people you see every day who seem to have a phone surgically attached and continually in use were too tied up on the phone to answer this question. Either that, or they didn't think texting was included in telephone usage. (The wording of the survey category does look a little outdated.)
Mrs. Cleaver is alive and well. Do you think gender roles have changed radically since "Leave it to Beaver?" Guess again. Women are more than twice as likely as men to be engaged in housework on any given day, and in total spend more than three times as long doing housework than men do.
A second job can ruin your weekends. Roughly a third of all Americans work on weekends, but this number jumps to just over half when it comes to multiple job holders. Taking on a second job is an economic necessity for many, and your weekends off may be the first thing to go if you need to do this.
Your college degree won't necessarily get you off the weekend shift. It might be under very different circumstances, but folks with a bachelor's degree or better are about as likely as those with less education to work on weekends. In fact, having a bachelor's degree makes you slightly more likely to be found at work over the weekend, with 34.0 percent of bachelor's holders working on weekends, compared with 32.6 percent of high school graduates with no college degree, and 32.8 percent of people who did not graduate high school.
Workload peaks between ages 35 and 44. People in that age group spend an average of 4.82 hours a day working (if that sounds low, it is because this average includes people who don't work). This falls off slightly, to 4.66 hours a day, between the ages of 45 and 54, and then more sharply between the ages of 55 and 64, to 3.62 hours. People 65 to 74 work an average of just 1.15 hours a week.
The telecommuting trend is an evolution, not a revolution. Perhaps the trend towards telecommuting has been overstated because one of the groups best positioned to take advantage of it are people who write about these things. However, over the past ten years the percentage of employees who physically show up for work has edged down only from 88.8 to 85.0 percent. Telecommuting has freed up few more part-time workers, as the percentage that of this group showing up at the workplace has dropped from 79.3 to 74.4 over the same ten years.
That's a diverse group of observations, but I could tie them together this way: Our habits and circumstances often drive how we spend our time more than conscious choice does. However, the more we can take control of the use of our time, the more satisfying that time is likely to be.
Speaking of which, thank you for taking the time to read this post. I hope you found it time well spent.
This post comes from Lilly Keyes at our partner site Zing!
Since June is National Camping Month, I'm sure you're desperate to get out there and start roasting marshmallows. If you've never been camping before, there are some things you should think about before you start rubbing sticks together. I mean, have you ever seen anyone on a sitcom try to put up a tent? It hardly ever goes well the first time. But don't fret! There are some simple things you can do before you leave to ensure your camping trip's a breeze.
Scour the Internet
What activities do you want to do while camping? Is it important to be near a beach? How about hiking? Make sure to take the possible activities you want to do into account when choosing a campsite. Once you decide, look up campsites in that area. Ask yourself how close you want to be to town and how rustic you're willing to be. Is a nearby convenience store or shower important to you? If they are, make sure the campground you choose has these. Also, look at a map to see where your individual campsite will be. If you're dying to hike, try and get a site near the trails. And, like everything else, read the reviews before you choose!
Look Out for Deals
Some states offer programs for first-time campers, and, speaking from experience, they're awesome. Park rangers help you set up your tent, provide you with necessities like camping stoves and s'mores roasters and check in to make sure everything's going smoothly. And you get a discount on your campsite. What's not to like?
Pop Some Tags
When you're making your initial list of things you need for your first camping trip, buying everything at a big box store could get pricey. If you make second-hand stores your first stop, you could save a lot of money. If you don't have the major camping essentials like a tent or sleeping bag, borrow them from your friends and family before you make any big purchases. If you decide you want to make camping a major hobby, then head to the camping store with your credit card in hand. Your bank account will thank you.
Better Safe than Sorry
Always take extra precautions when camping, especially for the first time. Store your food high and out of reach for the wildlife in your area. Despite how cute it might be, the last thing you want is to come home and see a bear eating your dinner for you. Also, pack clothes for a wide variety of weather scenarios. I don't care how many times you checked the weather on your iPhone before you left; you'll be happy you have your rain jacket if an impromptu thunder storm hits.
Sleep Tight
It's hard to enjoy your camping extravaganza if you're cranky from sleep deprivation. The ground is a lot harder than you think, so an air mattress or soft pad to go under your sleeping bag is crucial. You can even use those foam floor tile puzzle pieces that are popular in kindergarten classrooms and playroom floors. Anything helps. Whatever you do, don't leave your tent open, no matter how warm it gets during the day. The bugs will find you.
Check Your Pantry
There's all sorts of camping hacks you probably already have and just don't know it! Did you know dryer sheets make great (and delicious smelling) fire starters? And that an old prescription bottle makes a great mini first aid kit? Or that, when added to a campfire, sage makes a great mosquito repellent? There's all sorts of household camping hacks that you can check out at sites like Buzzfeed or Pinterest.
Now that the weather is getting warmer, it's the perfect time for you to grab your tent and get out there! Even if it's your first time camping, as long as you do your research and come prepared, you'll have a great time. Happy camping!
More stories from Zing:
Five Feng Shui Tips to Help You Sell Your House
Tips for Transitioning to Dorm Life
I don't know how the reading list looked in your high school English classes. But in mine, the teachers clearly believed we kids should absorb books that achieved, to quote Woody Allen, "total heaviosity." These serious message novels were chosen to shake us out of our suburban-bred complacent lethargy. They were profound. They were penetrating. They were pithy.
They exhibited great gobs of pith.
On a reading list that included Catcher in the Rye, The Heart is a Lonely Hunter, The Grapes of Wrath, To Kill a Mockingbird and The Old Man and the Sea, the academicians tossed in a slim John Steinbeck volume called The Pearl.
Those of you who've read The Pearl probably recall the basics. The protagonist, Kino, is a poor fisherman who finds a huge lucid pearl and realizes he's stumbled on great wealth. But the pearl isn't the answer to his dreams; it's the start of his nightmares. After a string of events involving his trying to exchange the pearl for the vast sums it's worth, he finally realizes the bauble is a curse, not a blessing and he … well, I don't want to spoil it for those who haven't yet read this classic.
The heavy message was unmistakable. In a world that values moolah above all else, it is wise to remember that it's possible to have too much of a good thing.
In the past week or two, a skein of news stories has convinced me that among those who've read and taken The Pearl to heart are legendary music maker Sting, actress Keira Knightley, world-famous investor Warren Buffett and a great many other ultra-rich folks whose gigantic bankrolls are equaled by their grave concern about the weighty burdens of jaw-dropping affluence.
A stinging announcement
Few missed the announcement that Sting, worth more than $300 million, won't be leaving his sons and daughters much in the way of inheritance.
"I certainly don't want to leave them trust funds that are albatrosses round their necks," he told interviewers. "They have to work. All my kids know that, and they rarely ask me for anything, which I really respect and appreciate."
Speaking of appreciation, I came away from that news item with deeper regard for Sting. He worked his way up from a working class neighborhood in Great Britain to international fame and fabulous wealth, and apparently recognized along the way that making it on your own is a lot more rewarding than having millions handed to you. He won't deny his kids a chance at a similar joy ride.
Was it just coincidence another story with a related message appeared almost the same day? That was the Telegraph story about a survey of the super deep-pocketed, many apparently readers of The Pearl. "One in seven billionaires or multi-millionaires is worried their wealth could be depriving their children of drive and ambition, says a survey that affords a rare glimpse into the minds of the ultra-rich," the piece by social affairs editor John Bingham reported.
Bingham went on to note that the report, "The Meaning of Wealth in the 21st Century," by law firm Withersworldwide, surveyed 4,500 mega-rich individuals from North America, Asia and Europe and included detailed interviews with 16 families who have been all but buried in a canyon of cash.
Among the wealthiest of those surveyed, the concern that lurked just after concerns about their own health was what effect insane riches would have on their sons' and daughters' determination to make their way in the world.
"For many parents, the main concern is that great wealth will scotch the individual ambition of their children," Bingham quoted the report as stating.
And that could result in them indulging in too much Scotch.
Oracle's observation
It's possible that before he became the Oracle of Omaha, Warren Buffett also immersed himself in a dog-eared paperback copy of Steinbeck's novella.
Buffett long ago went on record to assert that his sons and daughters wouldn't be in line for zillionaire status upon his passing. He didn't intend to leave them much, he said, intoning something along the lines of, "I want to give them enough to do something, but not so much that they will be able to do nothing."
Back in Britain, actress Keira Knightley just may be another fan of The Pearl. In spite of having amassed an estimated net worth of $50 million in the pursuit of moviemaking, the 29-year-old thespian and model keeps herself on a tight financial leash, allowing herself an annual allowance of a mere $50,000.
"I think living an [expensive] lifestyle means you can't hang out with people who don't live that lifestyle," Knightley opined in an interview with Glamour magazine. She added of big money that, "It alienates you. Some of my best, most hilarious times have been in the least luxurious places."
To which Us Weekly, hewing the predictable line, editorialized, "Um, what?"
Um, nothing. Knightley would probably get on well with Buffett, who's been heard to observe that prodigious riches bring with them diminishing returns.
The insight my high school's English teachers would have wanted us teens to absorb is that when it comes to wealth, enough may be enough.
As pearls of wisdom go, that's a real gem.
Graduation is the theme all around my neighborhood. It is a time of excitement and big dreams. Unfortunately in most cases, personal financial sense is not a taught at college. Once out of college, going from living broke to a big paycheck every month can easily encourage lifestyle inflation and a downward spiral of bad financial habits. Hence, it is essential to establish a good personal finance foundation to avoid getting trapped in a lifetime of debt. Here is a checklist I would hand over to a new graduate to make sure they start on the right path.
Earn
Learn to network efficiently: Invest time in networking. Learn about your colleagues. Find a mentor and build relationships at every level, both above and below yours.
Start a case study file: By "case study file," I mean make a list of all your accomplishments rather than a list of projects you worked on. For example: Cut 20 percent of production costs while maintaining the same product quality. Include information on which project and what you did to achieve that. This will be of great use in many situations like an annual review, a salary negotiation or a new job search. In addition, keep your resume updated at all times.
Promote your personal brand: As a job candidate, 86 percent of potential employers will look at your social profiles, so spend some time cleaning up all your social media profiles.
Spend
Create a budget: You might feel like you are flush with cash going from a student's pay to a full-time-job's pay. Create a budget even before you get your first paycheck. Continue as much as possible to live like a student and set money aside for your future goals.
Save
Pay yourself first: The first bill you should pay each month should be to you. Before you pay for your groceries, before you pay your mortgage, before you do anything else, put money aside in your savings. Most people will wait to pay all the bills and save the money left over. It is fine in theory, but the problem is there is almost never anything left over. If you pay yourself first, even if it seems impossible initially, you will learn to live with what is left over. This way you will always spend less than you earn.
Borrow a book or two on finances: Knowledge is power. Arm yourself with as much personal finance knowledge as possible. I recommend "I Will Teach You to be Rich" by Ramit Sethi, if you are just starting out.
Start an emergency fund: Establish a rainy day fund as soon as possible. Start with $1,000 to cover small emergencies, then move on to saving 'X' number of months' expenses to make sure a sudden job loss or illness won't put you in debt.
Think five and ten years ahead: Right now your 20-year-old self might say that you are never going to get married or you will always be renting. But in five or ten years, it is very likely you would have changed your mind completely. Do yourself a favor and start saving for standard goals anyway — a wedding, down payment for a house, or your dream vacation. If you don't end up spending money on a wedding, you can always reallocate it to another goal.
Invest
Get started today: Time is the most powerful ally when it comes to investing. Many people keep waiting to learn everything about investing to start. Don't get stuck on debate minutiae. Get started with some basic, low expense, index funds — total stock market or life-cycle funds. As you learn more about investing, you can adjust them accordingly.
Don't pass up free money: If your company offers a 401(k) plan, especially with matching funds, take full advantage of it. Sign up to contribute the maximum. That way you will never see the money in your wallet, you won't miss the money, and you won't be tempted to spend it.
Borrow
Manage your debt: If you have student loans or credit card debt, pay them off aggressively, starting with the highest interest rate loan.
Avoid consumer debt: I do not believe credit cards are evil, but they are not for everyone. Understand the pros and cons of credit cards. Do not buy things you cannot afford. If you want something, save for it.
Build your credit: Unless you are determined to pay everything in cash, you need decent credit to get a good interest rate on your loan, whether a car loan or a mortgage. Even if you are in the cash camp, it is still a good idea to maintain a great credit score as it is now used by utility and insurance companies to give you preferred rates.
Protect
Insure adequately: When you are in your 20s, you might feel invincible and be tempted to skip health insurance to save money. Don't! Accidents happen, and so do sudden illnesses. If your company offers health insurance, that is most likely the cheapest option. If you are under 26, you can also check the cost of insurance as a dependent on your parents' plan. If you are single with no dependents, you probably don't need life insurance, unless you have a loan that someone else co-signed for, if that is the case, insure yourself at least to cover that loan amount.
Nobody cares more about your money than you do. By setting up a good financial foundation, you are setting yourself up for success.
If you can go back and talk to your newly graduated self, what advice would you give yourself?
This post comes from Dawn Jamison at our partner site Zing!
One of the most exciting things about being a new parent is learning about all of the wonderful toys and technologies that exist for kids! The apps and websites my friends have told me about have truly been lifesavers. I don't know what I would do without having these great resources at my fingertips. Whether I've had questions about my daughter's development or questions about my sick baby, these have come in handy.
Here are four web sites well worth saving to your favorites list.
This site is popular among expectant moms because it tracks the development of their fetus and also tells moms how to take care of themselves during pregnancy. The site boasts trusted advice from pediatricians and experts around the world on all things babies. It provides feedback from an online community of moms and parents. The instructional video clips are very helpful too!
This website is intended to help parents raise healthy children and influence manufacturers to produce safer products for families. HealthyChild.org gives parents answers about children of any age. The site features all things pertaining to kids and parenting, including information about your child's growth, news stories, blogs and consumer information.
This website is run by Public Broadcasting Service and focuses on providing quality child development through programming, videos and activities. This site also provides free interactive learning games for kids and fitness and food advice for parents. Your children can watch cartoons and listen to songs while learning basics like numbers, letters, colors and shapes.
If you're the type of person who relies on feedback from reviews, you'll love WeeSpring.com. This review site provides parent reviews on everything from products, toys and furniture to foods and more. It is a great resource for new parents who don't know where to go for advice on baby products. It's also helpful for people who aren't parents and need to purchase gifts for kids. It even has a section called "Diaper Bag Essentials" for newbies.
You know how people say, "there's an app for that" about everything? Well, I'm starting to think it's true! Here are four phone apps that are must-haves for parents.
This app helps parents find kid-friendly fun and activities when away from home. The Mom Maps directory has more than 19,000 locations in 18 metro areas. These include parks, playgrounds, restaurants, museums, indoor play areas and more. The directory is powered by a large community of mom-mappers and well-traveled parents.
This awesome app lets you track and review your caregiver's actions throughout the day. You can see your baby's feeding schedules, diaper changings, sleep times and even pictures taken by your caregiver. It also is an easy way to keep track of your child's growing milestones such as a first tooth or first steps. This app also has a cool calendar feature to sync your schedule and baby-related appointments.
This app is designed to save users money because they can see trending deals, limited-time offers and find coupons for items of interest. This app isn't tailored to parents, but it's a valuable tool when it comes to buying pricey items like formula, diapers and wipes. The app sends you deal alerts and reminders so you don't miss out!
Baby Monitor Apps
As I geared up to spend about $150 on a baby monitor system, I learned about these cool baby monitor apps. They allow you to turn your phone or computer into an alarm and detect noise around your sleeping baby. There are various versions of baby monitor apps such as CloudBaby Monitor by iTunes, Dormi for Android phones and CodeGoo by iPhone.
If you have other valuable websites or mobile apps to share, post a comment below. I'm sure other parents will appreciate you for sharing your resources!
More stories from Zing:
Five Feng Shui Tips to Help You Sell Your House
Tips for Transitioning to Dorm Life
Do you think it's a good idea to get away from fossil fuels for our energy needs? If so, you'd be one of millions. Fact is, we are totally dependent on energy for our daily lives, especially electricity. (You can't read this post without electric power, for example.)
Where Does Power Come From?
Most electricity, by far, is generated with fossil fuels: coal, oil and natural gas. However, this is unsustainable in the long run, as we all know by now. In recent times, new methods of generating electricity have been taking root with processes that rely on sources which:
do not pollute
do not contribute to climate change
do not deplete a finite resource
are not destructive (in terms of damaging the Earth), and
are sustainable over the long term.
Three new processes of generating sustainable electricity have been attracting more attention in the past decade (hydro-electricity presently is the oldest and the largest renewable energy source):
Wind turbines
Photovoltaic (solar cells)
Solar thermal
(The difference between photovoltaic and thermal is that the former turns the rays of the sun directly into electricity which can be used for anything, while solar thermal is limited to heating water or air.)
Wind energy output has tripled since 2008, according to the American Wind Energy Association, although it's from an admittedly small base. In 2013, wind energy made up 4 percent of all U.S. electricity generation, but a full 30 percent of all new generating capacity.
In comparison, solar is still small potatoes, as this chart depicting data from the government's Energy Information Administration shows:
Renewable Energy – Wind vs. Solar (quadrillion of BTUs)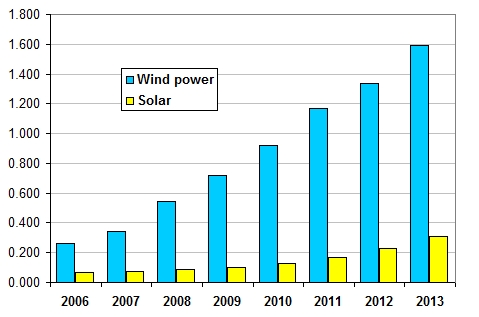 Although wind energy output tripled since 2008, photovoltaic (PV) solar energy generation is growing much faster at the moment because its costs are dropping at the rate of about 15 percent per year.
Speaking of cost, clean energy costs much more than old energy, and that's one of the biggest impediments to widespread adoption of alternative energy generation these days. Hydro-electric power is the cheapest sustainable energy source, but environmentalists have pretty much put the kibosh on the construction of new dams. In addition, wind and solar remain much more expensive alternatives to traditional fuels.
Cost isn't the only deterrent
Then there is the issue of storage. Electricity is generated as it is needed, and what's not used is wasted. That means your utility has to anticipate when you will turn your computer on so the power is there for you. (And yes, they actually do track that. Interestingly, they've noticed that tablets and smartphones have reduced legacy computer current usage.) The point is that any extra power they generate is lost forever. Over the years, utilities have become good at load management, relying on stable, low-cost, fossil-fueled power plants. They have "base load" generators which run round the clock, plus additional generators which come on when more electricity is needed and are shut down when demand subsides. These new renewable energy sources present a problem, however: You may not need the power they generate the moment the wind is blowing. The situation is reversed when a cloud passes over a solar installation, reducing the amount of energy generated and available at the very moment you need it.
Energy storage is the next biggest problem (after cost) for wind and solar power. That's why Abengoa's new Solana thermal solar power plant is significant — it comes with energy storage built in, which allows it to generate power for six hours after sunset. Time will tell if the benefit of storage will outweigh the cost involved and if this becomes the future for clean energy generation.
How does this impact you?
1. Expect to pay more: Clean energy costs more than "dirty" energy, and those costs will be passed on to consumers as clean energy supplants traditional power sources.
2. Expect complications: The lack of storage, and the variability of the new sources of energy, will expose you to more power shortages when the weather conspires to deliver "whammies" every few years. As the nation transitions to cleaner power, your need to prepare for power outages will increase.
3. Become self-sufficient: As the cost of household electricity continues to rise and the price of solar energy continues to drop, it makes more and more sense to consider adding solar (thermal or PV) capacity to your house. Geothermal energy and even residential wind turbines are other options to consider. Whichever technology you choose, this investment will show returns which increase every year.
The biggest downside to adding clean energy to your home is, of course, the initial investment. The numbers range from below $10,000 to over $100,000, and depend on a whole host of variables such as the amount of power you want to generate, how you want to store your energy, whether you want to maintain a connection with the power grid, and so forth. I was intrigued to observe that the number $30,000 seems to pop up more than any other … for just about any clean energy option.
That's obviously more than your daily Happy Meal at McDonald's. In order to encourage homeowners to make this investment, the government has offered various incentives, and can probably be expected to offer more in the future. That obviously reduces the up-front cost. How quickly you earn that investment back depends on your current energy usage and your passion for a clean earth. Worst case, though, you can probably expect to get the cost back when you sell your home.
If you live in communal housing (condos or tracts with strict homeowners association rules) your ability to make the world a cleaner place may be limited. However, as electricity costs continue to escalate, we can probably expect to see new construction projects that include some form of clean energy, which is actually more cost-efficient on a per-unit basis when installed in clusters, and may significantly increase the marketability of those units.
Bottom line: In 20 years' time, you can expect to see the "cleanness" of electricity generated in America rising significantly and, with that, its cost. That rising cost should make any investment in clean energy sources for your home energy well worth it.
One can't give financial advice for very long without realizing that most of it is not earth-shattering insight. It usually comes down to common sense. So then the challenge becomes one of analyzing why people don't apply common sense to their finances more often.
Temptation is a big reason, of course. One person goes over a credit limit because she is absolutely convinced she deserved a fancy vacation. Another cannot save any money because he feels he has to buy a new car every nine months. Those situations are tough to deal with because, when you confront people who do this kind of thing with reason why it is a problem, they will start out agreeing with you but then immediately segue into a long rationalization of why they only did it because the circumstances were exceptional.
Believe it or not, though, temptation is not the most common reason people fail to make the right money moves. I find that it more often comes down to time. People are aware of what they should do, but they just don't quite get around to it.
From a management standpoint, saving time by not addressing important tasks is a false economy. A little investment in time can lead to an ongoing payoff without any further effort. In other words, rather than costing time, attention to these tasks would actually leverage the use of your time in the long run.
In this sense, managing money is much the same as managing a business. A little investment of time in the right spots can produce an ongoing return without much further effort. These are the type of money tasks you need to make time for.
5 money tasks you need to make time for
Here are five money tasks that could have an ongoing return once you take care of them:
Creating a formal budget process. Notice that I said "budget process" rather than budget. Yes, ideally everyone should formulate a detailed plan of expenditures and income at some point, especially early in their careers when income is most likely to be tight. Going into that kind of detail is the best way to get a good sense of where your money goes; but realistically, not everybody is likely to set out a fully detailed budget. So, you at least need a process that will limit your expenditures — such as a fixed allowance, and rules about how you use credit. Setting strict, big-picture limits tends to force the details to take care of themselves.
Set a refinancing target. People occasionally look at mortgage refinancing if they happen to notice that mortgage rates are low. That is way too random because mortgage rates can move up and down quickly, and the potential reward here can pay off for many years. Look at refinancing not from the standpoint of where rates are, but from the standpoint of where rates would need to be for it to be worthwhile. Once you have set that target, it would only take an occasional glance at mortgage rates to see if they are moving within range of that target.
Update your insurance. Insurance tends to sit quietly in a drawer while your life is changing dramatically. Your driving record, your financial resources, the value of the possessions in your house, and the needs of your spouse and children may all be very different from when you last bought auto, life, and homeowners insurance. Check to make sure your insurance is adequate, and shop around to see if you are getting the best rates for your current needs.
Shop your credit card business. This is one of those slippery things where what you bought may be very different from what you are getting today. Your credit history may have changed, your credit card company may have changed its rate policies, and the competitive landscape of the credit card industry is changing all the time. In short, what was once a good deal may not be so attractive any more. If you regularly carry a balance on your credit card, you should shop for the lowest rate you can find. If you do not carry a balance, you should shop for the most generous rewards package on a no-fee card, since this is essentially a free benefit if you are not incurring interest charges.
Shop your banking business. Fees on checking accounts and rates on savings accounts are changing all the time. You won't know how competitive your bank is unless you check periodically — at least once a year, or whenever you are notified of a rate increase.
We all draw the line somewhere. We choose not to pursue every money-saving opportunity if we perceive our time as being worth more than the potential savings. However, for those opportunities which represent ongoing savings, a little investment of time can have an out-sized reward.
This post comes from Jenny Paxton at our partner site LearnVest.
Apprenticeships—formal programs that consist of on-the-job, paid training, mentorship and related classroom education—may be the solution to the pressing skills gap between employers' needs and job seekers' training.
Yet despite the obvious benefits, the number of these programs dropped 40% between 2003 and 2013, according to the U.S. Labor Department. So what gives?
One reason could be that apprenticeships are linked with unions and a blue-collar image: Two-thirds of programs in the U.S. are in construction industry (though programs are now offered in other professions, like certified nursing assistants and IT administrators).
To encourage more apprenticeships, President Obama announced earlier this month the availability of $100 million in grants devoted to apprenticeship programs in high-growth industries.
"Apprenticeships are a way to link more Americans to jobs in some of our in-demand fields, like IT and health care. They let you earn while you learn," Obama said at a community college in Pennsylvania.
South Carolina, Wisconsin and Michigan are a few states that have taken advantage of more innovative apprenticeship programs. As an added benefit to employers, some states offer tax credits for each apprentice on payroll.
While companies might fear apprentices will leave for higher-paying jobs at the program's conclusion, advocates have found apprenticeships in fact help with retention rates. The programs are an investment in the employee, which is often reciprocated with loyalty to the company. Some employers also avoid this problem with non-compete agreements upfront.
But another discouragement to apprenticeships is the idea that young people should stay in school rather than pursue a "tracked" program. On the other hand, supporters of the programs say these opportunities offer more intensive hands-on experience than college degrees or internships do.
Business owners skeptical of the programs can look to South Carolina's encouraging results, where the number of companies offering apprenticeships has increased to 647 from just 90 in 2007.
More stories from LearnVest:
10 All-Inclusive Resort Secrets—Revealed
How I Did It: Opened My Own Etsy Shop
Even if you're not a news junkie like me, I'd be willing to bet that you've seen or heard one news item ad infinitum over the past several years. That nugget is the story about Americans' retirement readiness, or lack thereof. We are endlessly informed by the media that we're not ready to retire — and that we won't be ready unless we start banking lots more dough.
Years ago, there wouldn't have been a need for newspapers and magazines and broadcasters to hammer this mantra into our heads. That's because the rules were different then. You were hired by an employer, you worked there your whole work life, you earned your pension and retired. You then lived off your pension and Social Security. A few years later, you drifted off to the Happy Hunting Grounds, leaving whatever was left of your nest egg to your children and grandkids.
Since then, we've had an almost perfect storm of happenings that have led us to this point of non-retirement readiness. First, pensions began to be phased out by employers in the 1980s and '90s, being replaced by defined contribution plans — such as 401ks — that today dominate the retirement savings landscape.
Many have wrongly underestimated the significance of this development, one keen observer told me recently. What that shift from defined benefit to defined contribution plans essentially accomplished was to take decision-making out of the capable hands of financial experts heading employer pension plans and put it in the butter fingers of average Americans without a personal finance clue.
At the same time, advancements in medical science were adding years to the length of the average life span. That meant you no longer bought the farm a few years after traditional retirement age, but two to four decades afterward. And like icing on a catastrophic cake, now there is the danger that Social Security and Medicare benefits will be pared back, leaving oldsters even more exposed.
In short, once upon a time, financial experts with years or even decades of experience made determinations about the funding of retirements that were short in duration and buttressed by Social Security checks. And today, Joe and Jane Sixpack — whose first and foremost priority in life is watching each and every episode of "Dancing with the Stars" — make the decisions about funding their retirements, which are long in duration and may not be so ably assisted by Social Security payments.
And the media world's talking heads label it "news" that we're not prepared?
Take what's coming
If you are among the legions who are behind in funding your retirement, you'll need to maximize every single opportunity to save. Your employer may not be doling out pensions. But that doesn't mean you shouldn't closely scrutinize each offering the boss does provide to help you bank crucial retirement bucks.
The very first place to focus is upon your own employer's 401k plan. According to research by Lincolnshire, Illinois-based Aon Hewitt, the talent, retirement and health solutions business of Aon PLC, 82 percent of Americans in their 50s are indeed participating in their 401k plans. That means 18 percent — almost one in five — are not participating, possibly because they believe they will be flattened by Elvis's UFO on the day they retire.
Next, if at all possible, ensure you are saving at a level that will qualify you for your employer's match, which generally kicks in at three percent.
Aon Hewitt reports that 80 percent of people participating in their employers' 401k plans are saving at rates enabling them to garner full matches from employers.
So again, something like one in every five is leaving free money on the table. The employer match is like a fountain of gratis greenbacks showering toward your retirement piggy bank. If it is at all possible for you to do so, make sure your hands are cupped to gather them in.
If you're 50 or older, you can save at a higher rate than those under 50, thanks to what's called "catch-up contributions" that allow you to funnel an extra $5,500 a year into your employer's 401k plan.
In essence, there's a maximum dollar amount that can be saved. For those under 50, it's $17,500; for those above that threshold, it's $23,000. The chance to save more per year in a tax-privileged plan could mean a much larger stash of retirement savings for you to whittle away playing golf and sailing your sailboat.
Grab other offerings
Once you have begun funding your 401k to the maximum level of your ability, look around for other cash grabs your employer may make available. Let's say you don't want to fully retire in your 60s or 70s but want to transition into the kind of "encore career" for which you've always yearned.
Many employers offer partial or full tuition reimbursement. Plan your late-stage training well enough, and you could conceivably go back to school, use the employer-tuition reimbursement to fund your training, and still be able to work a mandated one or two years for your employer after finishing your training.
Also take a look at any corporate discounts that might be available. According to retirement funding experts, this is one place average Americans too often leave cash on the table. That's cash that could finance your retirement lifestyle.
In conclusion, you may not be able to do anything about the yammering media refrain about lack of retirement readiness. But you can do something about the free retirement goodies your employer offers as a benefit of employment. You've given your bosses a lot. Let them give you something for a change.
It's been exactly one year since my husband and I purchased our first home. As one might expect, we've learned a number of valuable lessons this past year. There are plenty of articles full of useful tips for first-time home buyers. I am not going to repeat them. Instead, I will list the lessons I personally learned that I didn't find covered anywhere else.
Think long-term and think re-sale: Are you planning to have kids? Will you be taking care of elderly relatives? You might be planning to live in your first home for only a few years. In that case, who is your target audience when it comes time to sell the house? If you buy a house in a very bad school district or a house on a very busy street, when you are ready to sell the house, most families with children will be out of your list of potential buyers.
Make a list of items to check: Home-buying is an emotional process. Ideally, you should set aside all your emotions when evaluating a house. Practically, that is impossible. Instead, make a checklist of your must-haves, nice-to-haves and other essentials. Then print copies of this checklist. Every time you visit a house, take the checklist along with you; take photographs so you can cross each item off your list. If you fall in love with the house and your checklist shows that the house has none of your must-haves, it will at least make you pause and think.
Look at ALL the expenses when you are budgeting for the house: When budgeting for the house, don't stop with principal, interest, taxes and insurance; add in utilities, cost of commuting and upgrades. Call the utility companies that service the house you are considering and ask for an estimate of what the cost will be, whether there are any budget plans available, etc. Will the gas budget for your car go up if you are moving further away from the places you frequently visit? Budget all of these expenses and see if you can still afford the house.
Ask for the homeowners association contract before you make a decision: Our long term plan is to rent out the house, if and when we move away. With this in mind, once we identified the neighborhood we found most desirable, I asked for a copy of the HOA contract after going to an open house in the area. It turned out that none of the houses in that neighborhood could be rented out. If you are buying a house that is part of an HOA, it is absolutely essential to read the HOA contract before you do anything else.
Research grants and other sources of funding: When I was researching our mortgage options, I came across so many grants and funding sources I have never heard of before. I always thought the income limit for qualifying for these types of funding would be very low, but I was pleasantly surprised by the generous income limit on many of the options. There are many different options based on profession (grants for teachers, farmers, etc.) as well as the area of the potential house (whether it's in a rural area, high-poverty area, etc.) Research all the grants and funding options you are eligible for before you automatically decide you won't qualify for anything.
Be sure to read your contract before you sign it: A house is probably the largest purchase you will ever make in your life, so make sure you understand the terms of your contract. If you don't understand any of the terms, ask your mortgage broker and your real estate agent. If they won't explain the terms clearly to you, fire them; there are enough people who will be more than happy to help you and work for your business.
Learn about the neighborhood demographics: If you are buying a house in a neighborhood full of renters, it only takes a few bad renters or bad landlords to drive the neighborhood down fast. If the neighborhood is full of single people, will you be happy there if you have very young kids?
If you like the view, buy it: Buy the view, not the house. A set of people in our neighborhood are at war with the county for approving a new development next to ours. The reason? There was a wetland and a nice wooded area with a view of snow-peaked mountains from their homes. They bought their homes for that view. Now, within a year of moving in, their view is gone. Unless you own the land between your house and the view, don't buy a house for the view.
Look beyond the staging: I read about staging while I was researching buying a home, but I never expected the amount of staging a house goes through. The psychology does work; staged houses look far better than houses that are still being occupied. One house we went to had nightstands with lamps on it next to the bed that really increased the appeal of the room. In reality, though, there were no plug points anywhere near the lights. So practically that setup would not have been possible without remodeling. When you are considering a house, mentally try to remove the staging. Pay more attention to the layout of the house and the structure itself. Ugly wallpaper and paint can be easily fixed later.
10. All the old advice about buying your first home is true. Some examples — have an emergency fund, save for a down payment of 20 percent, get your credit into a better shape and don't buy more than you can afford. If you need a refresher, here are some good articles: Roadmap for a Successful Relocation, Should You Buy a Home Now?, 11 Tips for First-Time Homebuyers, Renting vs. Buying: The Realities of Home-Ownership, Pay Off Mortgage Early or Invest?
Do you have any tips to offer first-time homebuyers? Are there any specific things to consider in the current housing market?
Fivecentnickel.com Bank Reviews
Disclaimer...
Because rates and offers from advertisers shown on this website change frequently, please visit referenced sites for current information. This website may be compensated by companies mentioned through advertising, affiliate programs or otherwise.
How to save money on insurance