This article, by Ainslie Simmonds, as told to Libby Kane, comes from our partner site LearnVest.
In 2009, I was a very senior executive celebrating my fourth anniversary at a brokerage firm. 
I was working about 70 hours a week, managing 80 people and traveling to the company's other offices (two of which were cross-country) 3-4 days a week, twice a month. Even when I wasn't at the office or on the road, my Blackberry was constantly lighting up on nights and weekends. I would estimate I got about 400 emails a day.
But with three children under 10, I knew that years of working at a blistering pace was taking a toll on our family, and I needed to make a change. I set out to find something a little less intense and found a great consulting role in marketing and product development with a small firm.
I was excited to keep up all my professional skills (and get some new ones) at a pace I knew would bring some welcome relief to the crazy of our household. At this new job I would manage only 15 people, largely set my own schedule and truly be offline while I was at home. But to make it work, we had to make some adjustments in order to accommodate my reduced salary.
In fact, it was a big reduction: $5,000 a month, plus the substantial bonuses I would no longer receive. When I did the math, I didn't think it was even possible to make such a massive shift in our lifestyle—but I knew I had to give it a try if I didn't want to burn out before I turned 40.
How We Cut $5,500 a Month
My husband Mark and I live in Larchmont, N.Y., a small town about 30 minutes outside of New York City, with our three kids, plus our dog Emily, our cat Nikki and our fish Charlie. It isn't cheap: The median household income hovers around $160,396.
Mark and I had always been good savers. I grew up in a modest home in a blue-collar town near Detroit, Michigan, but I never felt deprived. My parents taught me to never spend more than you earned—period. And I think that instinct kicked in when I took the new job. I had lived with less before and I absolutely knew I could do it again.
Salary cuts aside, I knew that no matter what, we could make things work as long as I followed my parents' advice. I was fortunate that along with my new position, I still had the financial advantage of a 401(k) with company match for my retirement savings, and considerable savings. My kids stayed on my husband's insurance, and I realized it was cheaper to leave them there and put myself on my new company's plan. That just left our monthly expenses, which had ballooned as our family grew.
After a lot of conversation with my husband and a ton of research, I figured out how to make it work.
The first thing I did to scale back our spending was aggregate all of my accounts with an online tool (the LearnVest Money Center wasn't around then!) to understand where my pay was going. Once I could see my spending in one place, I sorted my expenses from largest to smallest. I figured if I could make big cuts on the big items, I would have a fighting chance of making it work. I've never been an over-spender, but we had a substantial mortgage and a full-time nanny, which topped my list of expenses.
First, we put down the money we had saved from our bonuses years prior to pay down a big chunk of our mortgage so that we could refinance and move from a jumbo to a conforming loan. I'll explain: Fannie Mae only guarantees loans that meet certain requirements, including falling under a cap that changes annually. For 2013 it's $417,000 ($625,500 for high-cost areas like Larchmont). These are considered "conforming loans." Because they're guaranteed, there's a higher demand for them, and consequently lower interest rates.
The loan we had originally was considered a jumbo loan because it didn't meet those requirements and wasn't guaranteed, and had a higher interest rate. Once we put our bonus money toward the loan, we were able to refinance for a conforming loan with the lower interest rates (we went from about 6.75% to about 4.125%). Plus, we achieved 20% equity in our home and were able to stop paying PMI, the insurance you pay before that marker. That made about a $1,500 difference in monthly cash flow—a huge win—after a lot of effort!
Since both Mark and I were working full time, we had employed a nanny to help out. When making cuts, I decided to switch from our nanny of eight years to au pairs, who would live with us for one year each, sacrificing some salary for room and board. I worked with a company that arranges for international students to spend time in the United States. I didn't like the idea at all of having someone living with us, but the switch would save us another $1,500 a month. (So far, we've had three au pairs, and everything's gone great.)

We also tackled some other areas, like eating out, which saved about $500 per month (we're up to $3,500 in monthly savings, if you're keeping track!). I know spending $500 a month on eating out sounds like a lot, but for a family of six—including the au pair—that's only dinner out four times a month, spending about $15 per person each time.
I had more time to shop and cook because of my new hours, and I'd say it was the best thing that ever happened to our family. My kids were too young to realize that we were cutting our expenses, but I know they noticed that I was home more—and less stressed when I was.
While making all of these cuts, we also made sure to leave room for little luxuries so the transition wouldn't be too hard. For example, we love wine, so we doubled our "bottle of wine at home" budget. Side note: There are some amazing bottles forless than $20 in any local wine store!
That's not to say that everything went perfectly all the time. Mark, who works in clean energy, was incredibly supportive—but we did have a "flare up" when I tried to  swap his precious parmesan cheese block for a less expensive kind. There was a near revolt from my foodie husband, and I learned that some cutbacks are just not worth the fight.
Between these changes and a few more everyday tweaks, we managed to reduce our monthly spending by about $5,500 in the end.
Where We Are Now
The hardest part of the entire process wasn't the actual spending less. It was the legwork of researching and finding the best lower-cost options, just when I was starting a new job. Refinancing a mortgage takes time, focus and paperwork. So does finding a great au pair service, writing the application and interviewing candidates. Plus, I had to get used to someone else living in my house … which actually turned out to be much easier than I thought. The au pairs tend to be really independent, and when they're off duty, they usually aren't around. I was worried about the transition, but my kids like having a fresh approach every year.
It took me two and a half years to get myself into a role at the consulting firm where I could earn a good deal of sales commission, and we kept up our new spending habits throughout that time. In fact, I eventually ended up earning even more than I had at my old job when all my sales commissions were factored in, but at that point, we had already made structural changes in the big things and were able to save more than we ever had.
I'm no longer at my consulting job—I found my next position through a project for a company I ultimately decided I really wanted to join.
When I read all of the research about the relationship between money and happiness, I can't help but think that they're completely different metrics. I was certainly very happy when I shared a basement apartment when I was just starting out, and no matter where life takes me, I know that I could be equally happy with far less than I have now.
More stories from LearnVest:
This post is from staff writer Jeffrey Steele.
The following has occurred to me countless times; maybe it has you as well. Perhaps you've even been the one to utter those oft-repeated words.
Two or more people are talking about how far behind they are in saving for retirement. They've saved so little, in fact, that the idea of raking together a half million dollars or so in savings by age 65 seems an impossible dream. There's the pause, and then one of the conversationalists mouths the punchline.
"My retirement plan," he or she says, "Is to work until I drop dead."
Not exactly "A" material as comedy goes, but it often draws a nervous titter. And I think that's one of the twin objectives of the person speaking the line.
The comment is meant first to get a chuckle and a commiserating nod from one's partner in patter, making the speaker feel not so alone. Second, it's intended to offer added reassurance to the quipster. "Okay, maybe I didn't do that great a job saving for retirement," he or she thinks. "But it's not like I'll be dumpster diving. I can always just go on collecting a paycheck after 65."
Maybe that's true. But if a recent study is any indication, it's more likely false. And that realization should give anyone complacently planning on continuing to draw pay post-65 new urgency to come up with a real retirement plan, one taking into account the notion that health issues, ageism, the need to care for an ill spouse, disability or many other factors might make it impossible to go on working.
A big disconnect
The Employee Benefit Research Institute (EBRI) has conducted its annual Retirement Confidence Survey for the past 23 years. One question asked of current workers is whether they intend to work for pay after traditional retirement age. The survey also asks retirees if they are currently working for pay.
Since 1998, the percentage of workers saying they intended to work longer has ranged from 56 to 74 percent, with the current figure being 69 percent.
"Meanwhile, we asked retirees whether they were working for pay, and that has crept along in the 20s for most of the time we've done the survey," Nevin Adams, director of education and external relations and co-director of the EBRI Center for Research and Retirement Income, told me recently.
This year, one quarter of retiree respondents were working for pay, a decline from 37 percent in 2007, and 34 percent in 2009, Adams said.
That means the percentage of post-65ers who actually are working is just more than one third the percentage of workers who say they want to go on working. Is it too much a stretch to say if you plan on continuing to be paid for working after age 65, your chances of doing so might be approximately one in three?
That's scary or should be for those hanging retirement hopes on the ephemeral notion they'll be in demand by employers through most of their Golden Years.
Retirement factors
Interestingly, the idea of walking away from one's working days because of sufficient retirement cash was just one of the reasons retirees said they quit before they intended to, Adams said. The most common reason, offered by 55 percent of respondents, was that they had a physical health problem or disability.
After the second most common reason — that the respondent could afford to retire — other frequent reasons for quitting included leaving the workforce to care for a spouse or family member (23 percent), because of changes with the employer (20 percent), another work-related issue (20 percent) and a desire to do something else (19 percent). Clearly, some respondents offered more than one reason for leaving the workforce before they had planned to.
Sometimes, it's good to get a slap in the face, a bucket of ice water over one's head, or some other painful wake-up call. This is one such time, Adams says. "It's not always within your control at what point you retire," he cautions. "Realize it might happen sooner than you want, and make preparations."
Planning ahead
You can take Adams' urging one of two ways. First, the preparations you ought to be making are the same ones we've always been advised to make. Save, save and save some more, so you'll have options retirement savings provide.
But a second approach to his admonition might be to stop joking and get serious about working longer. That way, you may be able to develop or acquire the qualities that will make it hard for you to be retired against your wishes.
That could mean studying the occupations forecasters predict will be in demand for the next decade, and getting trained for one of those.
It could mean researching the professions and the employers most friendly to older workers, and begin mining these opportunities long before age 65. It could mean taking your current skills and building a consultancy around them. Or it might mean starting a business in a field unrelated to the one you've held.
Of course, we can always hope that by the time we workers retire, it will be a lot easier to continue working than it is today. But why risk it? Respond to that wake-up call, and do it before your fallback gets whacked.
This post is from staff writer Suba Iyer.
Money and its effect on happiness is one of those topics that has been discussed over and over again. Yet, the topic fascinates the academic community and the research continues — with contradicting results every few months. The latest finding in this genre of research comes from two economists at the University of Michigan, Betsey Stevenson and Justin Wolfers. Their new study, published in the May edition of American Economic Review, argues that more money does buy more happiness.
The study looked at "satiation" with respect to income. In other words, they questioned whether there is a saturation point, where you earned "enough" to be happy, beyond which you are not happier with the increased income. In previous studies, this saturation point has been anywhere from $50,000 to $75,000. This study argues that there is no such point where happiness starts to slope down while income increases.
(click to view larger image) Image source: The Economist
I am not entirely convinced by these studies. I feel any hypothesis can be proved right with the relevant subset of data. And it is almost impossible to account for every single variable like gender, age, cost of living, race, education level, location, confidence level, expenses and personal savings rate. Despite these weaknesses as a pure scientific experiment, these types of studies always make me stop and think about how I perceive money affecting happiness.
In my opinion, money does buy happiness. I honestly cannot see why it wouldn't. Yes, that is a bold statement but I stand by it.
Money does buy happiness
Money cultivates goodness: If you have more money than you need, you can give it away and make someone else's day. There are too many people in this world that can use the help. Feed a starving child and the content smile on its face will fill you with happiness. What stops anyone from donating their excess to a cause they relate to? Use the money to make the world a better place. Compassion makes humans happy and that is experimentally proven.
Money buys security: With money to take care of your survival, you can think about other things, things that you really want to do with your life. You do not have to worry about whether you will ever be able to retire. You do not have to lose sleep worrying about how you are going to pay for your food and shelter tomorrow.
Money buys freedom: Money buys choices. People with money do have more choices than without. Many dream about early retirement. Most people who think about early retirement don't really mean they want to quit doing everything and spend their entire day either in front of a TV or on a beach sipping margaritas. What they are really after is financial independence — the freedom to not depend on a paycheck, the freedom to not let anyone dictate what you can do with your day. Money buys this freedom.
Money buys time: How many of us want to spend more time with our spouse/parents/friends/kids but have to go to work to make ends meet? Don't we wish we had more time to do everything we want to do? Take more vacations, go to the museum in the middle of the weekday with your kid or simply relax and read a book. When we have a job, we pay for money with our time. Why not use the money to buy us time to use it as we see fit?
Money buys experiences: There is a multitude of research that says people value experiences over stuff. Most of us remember a great vacation much more than an expensive toy. Why not use the money to travel the world, taste different cuisines, learn new languages, get immersed in different culture and learn new things every day? Do whatever makes you happy.
Money is a tool. As with any tool, it can only be as useful as we make it out to be. If we are spending it wrong, get obsessed about the tool itself instead of using the tool, compare our material possessions with others and get stuck in the over consumption cycle, yes, I can see money making people miserable. If you always judge someone based on how much money they make instead of what good they are doing with their lives, yes, money absolutely doesn't bring happiness. If the only aim in life is to hoard money instead of doing good with it, yes, money starts to take control of your life. If money is spent in right ways, I do not see how it cannot increase happiness. The richer I get, the happier I am about it.
Do you disagree? How does money affect your happiness? If you feel money doesn't buy happiness, why? What's your take?
This post, written by Anthony Fontana, is from out partner site QuickenLoans.com.
Nobody likes wasting money, do they? Actually, according to a news report from Moebs Services, banks, credit unions and thrift institutions made $32 billion on overdraft fees in 2012. That's right, $32,000,000,000! That's a lot of zeros.
The 2012 numbers represent an increase of $400 million, or 1.3 percent from 2011. If you think last year's number is staggering, it still falls short of the record $37 billion in fees set in 2009. However, at its current rate, Moebs predicts a new record-high will be set at the end of 2016.
So, if you break down the population, how much did the average American pay? Well, considering there are approximately 330 million Americans, the average American paid about $100 in overdraft fees in 2012. If you break down the population by age, keep in mind that roughly 100 million Americans are outside the legal working age and are unlikely to contribute to the statistic. This means that the average working-age population paid close to $400 a year in overdraft fees.
Perhaps what's even more unsettling is the rise in overdraft spending isn't due to an increase in the price of the fee. Instead, it's resulted from a greater number of overdrafts. Of the approximately 38 million people who have a consumer checking account, the Moebs study found that the median overdraft is about $40.
Apparently people really do like wasting money. If you fall into the category of someone who has been charged an overdraft fee, there are ways to ensure it doesn't happen again. You can start by checking your account statement on a regular basis. In today's world of smartphones, this task can be done in a matter of seconds without a trip to the bank or an ATM.
There are many ways to overdraft your account. The most common way is to withdraw more money from your account than you have. You can opt in for overdraft protection, which will allow you to withdraw the money and then pay a fee later on. If you decide against opting in for overdraft protection, your transaction will be denied.
While overdraft protection can be useful in some cases, a recent study by the Pew Charitable Trusts found that 54 percent of the customers who had overdrawn their accounts did not realize they had signed up for a service that cost money. Do you fall into this category?
Be sure to check with your bank about overdraft penalties and if you are signed up for overdraft protection. Do you think overdraft protection is worth paying the hefty fee? Let us know in the comments below!
Additional stories from QuickenLoans.com
Mortgage Missteps: Not Checking Your Credit
Mortgage Missteps: Opening (or Closing) a Line of Credit
Summer Jobs for College Students
This post is from new staff writer William Cowie.
Prom inflation? There's such a thing now? Seriously? Yep.
Visa evidently thinks prom spending is significant enough that they're spending money doing an annual survey about how much people are going to spend on proms.
The 2013 report just came out a few weeks ago. What did it say?
New records
Recession, schmecession, prom spending is expected to set new records this year. Check out the chart below: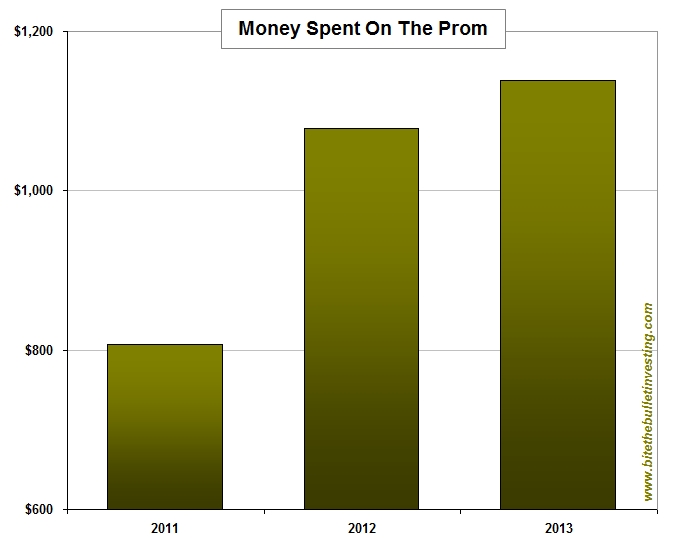 If 40 percent over two years is not inflation, what is?
The prudent ones among us, who routinely budget for planned expenses, would have had to put away close to $100 per month for the past year to pay for this year's shindig. How much will it be next year?
Prom debt
However, something tells me that saving ahead of time is probably not happening all that much. What gives me that idea?
Clue #1: Credit card company survey sponsor. Do you think Visa would spend good money reporting on something people bought for cash? Out of interest I Googled "Visa survey on grocery spending" and came up empty. Think about it: if you made your money from people incurring debt, would you be interested in a class of spending that in most cases does not involve debt? Me neither.
Clue #2: Those with an annual income of less than $50,000 plan to outspend those earning over $50,000. Does it make you shake your furrowed-brow head, too?
Clue #3: Single parents plan to spend almost double what married parents spend. $1,563 to $770. Slow down and let that sink in: single parents usually make less than a married household, and spend almost double on prom night.
So, what are the chances that the higher spending by lower income earners is funded with credit card debt? Pretty high, I suspect. (Visa didn't disclose that percentage, but in the past month they launched a new smart phone app, Plan'it Prom, to, well, you guessed it, plan out the prom, 21st century style.)
So, not only is the spending on prom nights rising to record levels, but it probably is funded by a disproportionate amount of debt.
What?
According to Kit Yarrow, a consumer research psychologist, "prom is the new wedding." When you look at where the money is going, it's easy to see her point.
The big-ticket item is the dress or the tux. Some will spend upward of $300 on a dress, worn one night, although that probably wouldn't be the average.
Then there's the venue. The school hall doesn't cut it any more. (Wait, you mean there are actually people who once had their prom in a school hall?)
Well, how are you going to get your fancy bottom to said fancy venue? In a fancy limo, of course. Maybe a party bus? Borrowing Dad's car to take your date to the prom and having her back in her parents' home by 11pm is so… hey, did they even have a century when people did that?
So, once the well-dressed young adult has arrived in stylish wheels to the fancy venue, how can you just end right there? And so the after-party was born.
I didn't mention the pre-prom tan, because I just couldn't bring myself to do that. The prommers apparently do it, though. Add it to the tab, Dad.
Why?
Those among us who are older are no doubt aware that prom night has always been an important event. But important didn't always equate to spending at this debt-inducing level. Why, then, has prom spending skyrocketed?
Perhaps a form of peer pressure ("C'mon, Mom, I don't want to be the one left behind!") is partly responsible for ballooning prom budgets?
However, the stat mentioned above which shows single parents outspending married parents two to one makes one wonder if prom night isn't some attempt, conscious or unconscious, by a parent to have a "do-over" to recapture the romance of a time with no responsibility beyond being home at a certain time.
Or could it be that the recession is over and any occasion to step out and celebrate is a welcome distraction from the hard times we all went through?
By far the most troubling thought to me is that this one night will be the highlight of a young adult's life. Can that be? Is there nothing better in someone's future than prom night? Isn't that just the most depressing thing you heard all year?
Why do you think prom spending is rising so quickly? Especially among those who seemingly can least afford it?
Advice
How do you feel about the level of prom spending? Do you feel it's getting out of hand, or is this just part of the new normal? What do you feel is a reasonable budget? How much of that budget should the parents pay for?
More importantly, what advice would you give to parents with teens getting ready for prom night?
This post is from staff writer Richard Barrington.
I was recently interviewed on the subject of online banking, and the reporter asked a very direct question: is online banking better than traditional branch-based banking?
It's a fair question given the information we were discussing. This included surveys from MoneyRates.com that show online banks consistently having higher money market and savings account rates than traditional banks, as well as lower checking account fees. There was also a recent MoneyRates poll that found bank customers who use online services were a little more satisfied with their banks' customer service than those who don't.
So again, it was a fair question, but even though online banks might seem to have a lot of evidence on their side, the answer doesn't come down to the banks. It comes down to the customer. In order to decide which bank is right for you, you need to look in the mirror and decide what kind of bank customer you are. That will help you sort out not only the issue of online vs. traditional banks, but also questions of size and other bank characteristics.
The following are some questions about what type of bank customer you are, along with a discussion of how each relates to your choice of bank:
Are you a saver? If you plan to keep a large amount of money on deposit, then your bank search should focus on where you can find the best savings account, money market account, or CD rates. If, on the other hand, your need is primarily for a checking account, look for a bank which offers free checking — these are a minority among traditional banks, but most online checking accounts are still free of monthly maintenance fees.
Are you a student? Students often have trouble qualifying for free checking accounts because they tend to have low account balances and don't have paychecks throughout the full year to meet direct deposit requirements. However, some banks have special accounts which offer free checking to students on easy-to-meet terms. Local and regional banks seem to offer these accounts more often, but some larger banks have them as well.
Are you over 50 years old? Just as some banks offer free checking to students, the same type of banks often have programs providing free checking to older customers — and the qualifying age is often as young as 50 years old.
Are you wealthy? Wealthy customers need to be careful about exceeding the $250,000 FDIC insurance limit; remember, this limit combines the total of all your accounts at any one institution. Wealthy customers may want to spread their accounts among multiple institutions to qualify for more insurance, and choose each of those institutions according to the type of account being opened.
Do you have a very small checking account balance? At the opposite end of the spectrum from wealthy customers are those who live paycheck to paycheck, and maintain a minimal checking account balance. Banks often have minimum balance requirements to keep an account open, or to qualify for free checking. You'll find these balance requirements tend to be lower at smaller banks than at larger banks, and they are especially low at online banks. So, if your checking account is small, focus your search on smaller banks or online banks.
Are you a traveler? If you travel frequently, you will want to look for a bank whose ATM network is spread out across the areas you tend to visit, so you can avoid out-of-network ATM fees. These need not be the bank's own machines; some banks belong to broader networks or have arrangements for reimbursing ATM fees in areas where they do not have machines. If you travel internationally, you may want to consider a bank which has currency exchange services or even foreign branches.
Do you like to do business online? As mentioned previously, online banks have certain interest rate and fee advantages over traditional banks. If you increasingly manage your personal business online anyway, then you are a very good candidate for this kind of bank.
How much do you value personal interactions at the bank? Ask yourself this: when was the last time you walked into a bank branch? If you realize that you do almost all your banking via telephone, mail, and ATMs, then it is worth considering whether you too might be a good candidate for online banking.
By the way, the question of online vs. traditional banking isn't always an either/or decision. Many banks today have a mix of both types of accounts, and customers can choose which services they want to access online.
One thing that banking customers have in their favor is choice: there are about 7,000 FDIC-insured institutions in the United States, and they come in all sizes and types. Thinking about what you want from a bank will help you narrow down the selection of which bank is right for you.
This post, written by Aaron Brandt, comes to us from our partner site QuickenLoans.com.
In order to survive, we need water. However, the water we drink could actually harm us. According to the Center for Disease Control and Prevention, tap water can contain contamination from natural chemicals and minerals, viruses, bacteria, parasites, pesticides and even sewage overflow. That sure doesn't sound like something you'd want to pour into a tall glass to quench your thirst.
The popular alternative to tap water is bottled water, but this might not be the best option. According to the Natural Resources Defense Council, there are actually fewer regulations on bottled water than tap water. And in many cases, bottling companies are just filling their containers with tap water anyway. Those non-biodegradable bottles are also very harmful to the environment as well as expensive. If a person drinks an average of three bottles a day, this can run you anywhere from $3 to $10, depending on the brand. That's $1095 to $3650 per year on water alone. So maybe tap water is worth a second glance.
While tap water may contain some harmful contaminants, it still can be very useful and cost effective if paired with a filtration system. According to the Environmental Protection Agency, the national average cost of tap water is just $2 per 1,000 gallons. That's $.002 cents per gallon! In order to take advantage of this tremendously cheap resource, there are several tools at your disposal.
Faucet-mounted filters: These filters attach directly to your faucet. The replaceable filter captures all of the contaminants. The filter will slow down the flow of water from your faucet. The assembly costs around $30, and replacement filters (which usually last about a month) cost around $20.
Carafe filters: These are basically pitchers of water with a filter mounted in the lid. Every time you pour water in through the top, it gets filtered. It can take some time to fill the container, and might not be enough to satisfy your water needs if you drink lots of water. They typically cost from $20 to $40, and replacement filters can cost from $15 to $30.
Countertop filters: These filters run from your faucet, through a standalone filter and out a separate faucet head. They also will not impede the flow of water from your regular faucet, if you don't want the water to be filtered. These can be costly, running from $50 on the low end, all the way to $200. Replacement filters can run from $50 to $150.
Undersink filters: These filters are installed out of sight, and let you get filtered water right out of your faucet. Depending on your sink's plumbing set up, the filter may require additional pluming work, such as connecting to the water line or drilling a hole in your counter top. The filters can cost from $100 to $300, with replacement cartridges costing from $10 to $80.
Whole-house filters: These filters help remove dirt and rust, but won't filter out much else. They are best paired with another filter, to remove the remaining contaminants. They are placed on the main water line going into your house. These can cost from $40 to $300.
No matter what you choose, do some research to learn about each filter's effectiveness, lifespan and maintenance requirements. Spending a little money on a system up front can save you big bucks in the long run and protect from harmful contaminants. If you already have a filter, let us know which works the best for you in the comments section below!
Additional stories from QuickenLoans.com
Walkable Neighborhoods Offer Great Benefits and High Home Values
Water Efficient Landscaping: 5 Small Changes for Big Savings
This post is from staff writer Jeffrey Steele.
A few weeks back, by sheer coincidence, I happened to meet a young woman currently enrolled in the same journalism school master's degree program from which I graduated more than a third of a century ago.
We got to talking about all the opportunities she and her classmates enjoyed. From studying at a Chicago news bureau to working in Washington, D.C. while still a master's candidate, these were openings not offered me or my fellow members of the Class of 1979. Noting my astonishment, she said her parents were just as dumbfounded by the opportunities awaiting today's collegians.
"My parents say that if they're ever reincarnated, they want to come back as their own kids," she added with a smile.
More opportunities — and debt
I can understand that sentiment, but I bet student debt is not one of the areas that leaves parents envying their college-age offspring. The severity of the college debt crisis continues to mount, as discussed in a recent report by the Squared Away blog from the Center for Retirement Research at Boston College.
Here are a few factoids from that blog. The nation's student debt burden has reached $1 trillion and continues to rise. Eighty percent of bankruptcy attorneys report student loans are driving more clients through their doors. Payments on half of all student loans are being deferred, an indication those with large loan balances are facing perilous financial circumstances. Student debt is held by 44 percent of American households headed by people under age 35, and it's concentrated in poorer households, according to the Pew Research center.
Yes, it is true college degrees add an average of $1 million in lifetime earnings for every man and woman holding the sheepskin, the reports says. But that notwithstanding, what's the societal fallout when students emerge from college with $50,000, $100,000 or even more in debt hanging over their heads?
The issues resulting from the punishing college debt include some surprising emotional landmines, as well as a few crucial lessons today's high schoolers and their parents can learn from the debt-burdened students who went before. Let's look at the lifestyle and psychological fallout, then turn to a few critical lessons.
Wedding bell blues. Women with no debt are more likely to marry than those who come out of college with large student debt loads. Fenaba Addo, a post-doctoral fellow at the University of Wisconsin's Department of Population Health Sciences, studied the effect of student debt on single women in their 20s. The probability of marrying declined steadily with amount of student loan and credit card debt. Interestingly, there was no similar impact on a man's ability to marry.
Stressed, depressed, but not repressed. Studies have found that people with extensive student debt are more likely to feel stressed out and depressed. But they're not repressed. The rates of cohabitation with their significant others are higher for both men and women carrying substantial debt, Addo found.
Perplexing self-esteem issues. Among the most intriguing findings related to student debt is that it is linked with higher, not lower, levels of self-esteem among the debt burdened, at least initially. Part of the reason may be that college has become so difficult to afford that taking on mountains of debt is almost seen as evidence one has gone far in his or her college career. However, one study found the effect evaporated when reality set in a few years out of college.
Lessons learned
Many families won't be able to eliminate the reality of college debt. But they can minimize its damage now and down the line. Here are some strategies:
* Rethink the conventional wisdom. Many believe state institutions are going to be the cost-effective option. Not necessarily. Many smart, middle-class high school students may be better off applying to private colleges, where competition for merit aid is not as stiff as at huge public universities, Squared Away reported.
* End of the romance. A lot of parents feel they must surrender to their sons' and daughters' idealistic feelings about the college that "feels right" for them. Phooey, say experts. With college degrees commonplace today, says one, "You have to consider very, very carefully how much of your life and how much of your money you're going to invest in that educational experience."
* Debt reducers. Consider strategies like summer work, work-study programs during the school year and even living at home as ways to trim costs.
* Be practical. Majoring in literature, history or philosophy was not unusual for yesteryear's collegians. Today, that's impractical. Students need to link their passions to disciplines associated with good-paying jobs, Squared Away says.
* Plan B: Community colleges and vocational schools. A four-year college degree isn't right for every student. Some would be better off logging the first two years at a community college, or forsaking college altogether for the hard-edged, very practical training afforded by vocational programs.
* Have the conversation. Parents must have serious discussions about what higher education costs will do to family finances. It's a way to counter what in many families are unrealistic expectations on the part of college-bound young people.
If you've gotten this far and are coming away from this blog with the notion that economizing on college costs ought to be as big a priority as grubbing for grades at midterms and finals, go to the head of the class.
This post is from staff writer Suba Iyer.
"Modern man drives a mortgaged car over a bond-financed highway on credit-card gas." ~Earl Wilson
So far, we have lived debt free. We used to live paycheck to paycheck because our spending was out of control, but luckily we never got into debt. Once we got our act together, not having any debt was tremendously helpful in quickly building our net worth up.
A couple of weeks ago, a conversation with a fellow blogger sparked an interesting topic. In his opinion, it is impossible to live debt free before anyone turns 50. He added that, our society is credit based, and thus it is simply not possible for normal people. Some people do it, but they either have to be extreme frugalists who live like hermits or trust fund babies who had everything given to them.
I am not so sure. Is it really impossible for people who make an average living to live without any debt?
Cultivating a debt free mind set
Everywhere we turn, be it the news, the radio, the internet or friends and acquaintances, everyone will emphasize the fact that our nation has embraced debt. We are comfortable carrying debt as long as we are making payments. It is difficult to break out of that mind set and choose to be debt free. We have to break free of the ingrained tendency to think that debt will fix all problems. There was a time in America when everyone got by with what they made and lived debt free.
Credit cards, layaway programs and easy access to credit have all made it extremely easy to get into debt. We have to think long term and decide that enough is enough. Debt is not a solution; it is a hurdle to freedom. The only thing that saved us from going into debt even when we were living from paycheck to paycheck is our hatred of debt. So having that mind set itself is winning half the battle.
It is possible to live debt free. But we have to choose to do so.
Developing a debt-free strategy
Once the main obstacle of cultivating the debt-free mind set is crossed, the implementation is comparatively easier.
Setting priorities: The main priority in this case is to be debt free without living like a pauper. To achieve this, we have to prioritize our spending. What is more important to you? A flat screen TV now or a mortgage free house later? A fancy dinner out every day or a great memorable vacation later?
Breaking bad financial habits: Habits define us. We do a lot of things out of habit instead of making a conscious decision to do so. We might not even realize that we are burning money on something we don't enjoy because we do it over and over again. Analyze your spending habits and see if they align with your priorities. If not, it's time to break bad financial habits and introduce some good ones.
Understanding financial weakness: All of us have our weaknesses. Ours is eating out. We are currently going cash only for just our food expenses, because we found that even though we are disciplined in other areas of credit card use, we tend to spend 25-40 percent more on food when we use credit cards versus cash. Cash makes us think twice about eating out or buying more than we need.
Understanding the challenges and rewards
It takes a lot of courage to be debt free because it is a lonely place. People will question your every decision; they will criticize your way of living and dismiss it as foolishness or assume you are swimming in money. Choosing to live debt free means you will have to think long term and master delayed gratification. It takes a strong resolution to ignore all the negative influences and keep plowing ahead with the reward in mind: freedom.
Is it possible to live debt free in America? Absolutely!
Will we stay debt free? Refining the relationship with debt
As I mentioned above, we are currently debt free. Will we remain debt free forever? I cannot say for sure. We are planning to take a mortgage sometime in the future. What changed? We no longer hate debt. I don't believe there is good debt and bad debt, but I believe in my math. Even though we have close to enough to buy a house outright, it make more sense for us to keep that money in investments as the mortgage rate is a lot lower than what that money is currently making.
Now I understand some people prefer to be debt free, period. It gives tremendous peace of mind. We choose to arrange our money by making it work for us with the maximum potential. That will be our first step in debt, if we feel uncomfortable; we could always pay it off. We feel this is the best path to build our wealth. Other than the mortgage we plan to always remain debt free.
This post is written by John Allasio and comes to us from our partner site QuickenLoans.com.
Right now is the most popular time for people to buy a home, and if you're looking to sell or refinance your home, one of the things you'll have to deal with is the appraisal. If your appraisal doesn't go well, it'll considerably drop the perceived (because perception is reality) value of your home. So, it's really important to do some research and know what to prepare for when you're getting an appraisal.
The basic thing to keep in mind, an MSN.com article explains, is that "Some of the advice [for appraisals] — like home valuations themselves these days — might seem contradictory. But what all the appraisers agree on is the importance of keeping the look, feel and condition of the property as updated and cared-for as possible."
To best prep for your appraisal, you should become familiar with the appraisal process so you know what to expect so you can prepare your home accordingly.
The appraisal
While your mortgage lender can't conduct the appraisal, they're the one to order it through an appraisal management company, which will then select the individual appraiser to visit your home. The appraisal will last approximately 20-45 minutes as the appraiser examines the quality, condition, size, etc., of your home.
The three parts of the appraisal
With every appraisal, you have the inspection, the comparables and the final appraisal report. The inspection is the part where the appraiser visits your home. The comparables (comps) are similar homes in your area that have recently been sold. The appraiser researches comparable homes to help figure out the market value of your home.
And, you guessed it, the final appraisal report is what the appraiser issues after he/she has inspected your home and researched the comps.
Your home
The general appearance of your home will affect the appraiser's evaluation of your home. Before an appraisal, spruce up your home, inside and out, so your house looks clean, neat, well-kept and appealing to others.
Start with the outside
Mow and trim the lawn, put away or organize any tools/gardening equipment and clear away any debris like leaves or sticks. Get rid of any noticeable weeds or dead plants, too. Also look at the condition of the house itself. Do you have peeling paint, cracked/missing bricks or mortar, damaged gutters or siding? Peeling paint is one of the big things appraisers look at, and some types of mortgages appraisals – like FHA – have very specific requirements about paint condition. It's absolutely worth your time and money to repaint any worn or damaged areas inside or outside your home before an appraisal.
Now tackle the inside of your home
After you've got everything shipshape outside, walk through your front door and try to look at everything through the eyes of a critical stranger. Mess and clutter will project a negative image of your home and can decrease its appraised value.
Some experts say just an old TV can make an entire room look outdated. This isn't a necessary change, but if you were thinking about upgrading your TV soon anyway, think about doing it before your appraisal to spruce up your home's appeal.
Keep your appraiser's comfort in mind
You don't want to patronize your appraiser, but think about little things you can do to make the visit a pleasant one. For example, lock up your dog if you have one. The appraiser doesn't want an excited, or angered, pet jumping up on him/her while working. If it's cold outside, make sure you have your house set at a comfortably-warm temperature and vice versa if it's hot outside. You want the appraiser's visit to be as pleasant as possible.
Also keep in mind the $500 rule
Appraisers often measure home value in $500 increments. If your home needs some relativity-minor repairs, they'll hurt your appraisal. Absolutely fix or replace all non-functioning door latches/handles, torn screens, worn out carpet and basic plumbing and light fixtures.
Effective age
Having lights, doors or windows that don't work can affect your home's effective age. If elements of your home are worn or in disrepair, its effective age will be higher so it will be compared to homes that are older than it actually is.
Keep track of all repairs or updates to your home
This is something you should do whether you're thinking about appraisals or not – so that you can point them out, along with any other special features of your home, to the appraiser.
Sell the neighborhood
You'll also want to keep track of and show the appraiser any changes or amenities in your neighborhood. If there are any parks, playgrounds, historic landmarks, unique shops, restaurants or anything else that makes your area stand out as a great place to live.
The bottom line for home appraisals is to make your house as appealing as possible but don't stress about it too much. Appraisers are trained to be careful and fair in their inspections.
Additional stories from QuickenLoans.com:
13 reasons to buy a home in 2013
For sale by owner: The pros and cons for the seller